THE MISTMANTLE CHRONICLES
I always loved stories with animals as the heroes, but I didn't know I could write one until my agent persuaded me to try. My favourite animals are red squirrels, and I put them on a secret, enchanted island surrounded by mists. Mistmantle is inhabited by squirrels, hedgehogs, moles and otters. It has a king and queen, a tower, woods and coastline - but it also has villians, secrets, and betrayals.
Urchin was found on the island as a newborn squirrel, and nobody ever found his parents. He doesn't look like the other squirrels. And he will play his part in the future of the island.
I think, if you like Narnia, you'll like Mistmantle.
Urchin of the Riding Stars
isbn 978 0747573562
Short-listed for the Ottakar's Children's Book Prize
Winner of the Heidelberg Leander 2005
A spell-binding, anthropomorphic epic
Publishing News
From the first few pages McAllister sucks the reader in... like the island of Mistmantle itself it's virtually impossible to leave behind. With characters who spring off the page and a well-told story
Yorkshire Post
It's hard not to root for little Urchin and his friends
The Washington Post
Extract:
Chapter I
From the highest point of Watchtop Hill, Urchin could see the whole island. For days, squirrels and hedgehogs had dragged rough branches up this hill. Their bonfire was ready to light now, stacked up so high that Urchin knew he had to climb it. He was old enough to manage it, and young enough to want to. Springing swiftly from one branch to the next, twirling his tail to balance himself, he reached the very top, gripped with his hind claws and dusted moss from his fur. He was still as pale as honey, with the red-squirrel colour only at the tips of his ears and tail. When he straightened up, shook his ears and looked out over Mistmantle, he felt he was lord of the island.
Tonight would be a night of riding stars. The animals would gather here as the air turned cool, light the bonfire, watch the stars swirl and dance through the darkening sky, and guess at what great things would happen next.
Anemone Wood spread out below him to the south, with a first touch of autumn turning the leaves to crisp gold. Further away, on the shore, otters chased each other in play. A line of small rowing boats bobbed on the water. Urchin could never understand why otters were so fond of boats, when they all swam so powerfully. Maybe they just liked anything to do with water.
A tall ship was moored by the jetty, with its sails furled and its painted figurehead gleaming with colour in the sunshine. A working party of squirrels and otters had been lined up to unload it, passing crate after crate along the line. Urchin guessed at what might be in those crates. Wool for cloaks, maybe, paint for the workshops, or rare wine for King Brushen's cellars? Tomorrow he would be down there, doing real, grown-up work, helping to load the ship with timber.
He didn't really want to think about tomorrow. Balancing and curling his hind claws he turned a lit­tle further to gaze far over the treetops to Mistmantle Tower, and his heart stretched out to it.
The tower was the place he longed for. On a high outcrop of rock, gleaming in shell-pink, white and pale sandstone-yellow that was almost gold, Mistmantle Tower rose like a statue to the sky. From a turret, a pennant fluttered in the breeze. A young female squirrel was hopping up the steps carrying something in a basket, and the moles on guard stood back to let her in. She might be on of the queen's attendants. Urchin envied her. He even envied the kitchen mole who appeared at a low window and threw dirty water into a drain. From the King in the Throne Rooms to the kitchen table in the scullery, life in the tower must be wonderful.
Buy Urchin of the Riding Stars from Amazon (UK)
Buy Urchin of the Riding Stars from Barnes & Nobel (US)
---
Urchin and the Heartstone
isbn 978-0-7475-7513-9
McAllister continues to build an enchanting world on Mistmantle... readers of the first book will not want to miss the second
Voya
An engaging read with appealing characters and lots of action
School Library Journal
Extract:
Chapter I
Wild seas and storming rain had battered the coast of Mistmantle all night, making squirrels scurry down from lurching tree-tops and hide in the roots. But by morning the gale had passed and the island lay washed and sparkling, with the wet stones of Mistmantle Tower gleaming pale pink and gold in the summer light. Squirrels darting from the windows on errands scrabbled to keep their grip as they ran down the walls. On the rocks around the tower columns of moles saluted and stood to attention as Captain Lugg the Mole trained them, and in the tower itself there was breathless bustle. The island was preparing for the coronation of Crispin the Squirrel.
Delicious wafts of spice and heat came from the kitchens where moles, squirrels and hedgehogs chopped nuts, lifted sticky golden cakes from ovens, and hung bunches of mint in the windows to keep the flies away. Otters piled up casks of wine in the cel­lars. Dancers and choirs ran up and down stairs looking for somewhere to practise, acrobats rehearsed on turrets and hung up tightropes which Mother Huggen the Hedgehog used as washing lines for the choir robes, and young animals hurried from the Spring Gate with splashing buckets of cold water for thirsty animals. Hedgehogs struggled to carry robes and Threadings down the stairs to the vast Gathering Chamber, where carpenters sawed and hammered to finish a new gallery.
The Gathering Chamber was the most impressive room on the island, but today it was crammed with stacked-up benches, robes, busy animals preparing for the coronation and more animals trying to look busy so they'd be allowed to stay and help. Threadings, the stitched, woven and painted pictures showing the stories of the island, lay draped across chairs until somebody could hang them up. In the middle of all this, Urchin, a young squirrel with unusually pale fur, was trying to find a way out.
Captain Padra the Otter had given him a very simple order - 'just nip down to the shore, Urchin, and ask Arran to come up' - but it was easier said than done. Urchin may have been Captain Padra's page and a Companion to the King, but at this moment he didn't feel at all significant. He was just a very young squirrel trying to get out of the door while a dozen large hedgehogs carrying stepladders were coming the other way, and somebody had just left a stack of cushions in the doorway because there was nowhere else to put them. It was easiest to jump out of a window and run down the tower wall.
The fresh, warm air was wonderful, and sunshine soaked into his fur. He delivered his message to Padra's wife, Captain Arran, who jammed her cap­tain's circlet on to her rough, tufty fur and made her way round the tower to the Gathering Chamber.
Urchin paused for a moment, absorbing the sun and the fresh sea breeze. A few leisurely otters rowed, fished and taught their little ones to swim in the shal­lows as if they didn't know a thing about a corona­tion or the flurry in the tower. It was late summer, too beautiful a day to spend it all in the tower. He looked out to sea, and looked again.
Enchanted mists surrounded Mistmantle. No ani­mal who truly belonged to the island could leave by water and return by water. The mists prevented it, and few ships found their way through them to the island. But something was moving in the mists now. Shading his eyes with his paw, Urchin watched. First he saw something, then he didn't, then he did. He should let Padra know.
He ran round the tower again and skimmed up to the window of the Gathering Chamber. As his best friend, Needle the Hedgehog, was spreading red-velvet cushions on the window seat he was very nearly knocked back down again. He managed to keep his balance and scramble over, but Needle's spines were exceptionally sharp and he couldn't avoid being prickled. He wriggled his way through the crowd to Padra and caught the smile on his face, but Padra always looked as if he were about to laugh.
'Captain Arran is on her way, sir,' he said, 'and I think there's a ship coming. Something's moving in the mists.'
Buy Urchin and the Heartstone from Amazon (UK)
Buy Urchin and the Heartstone from Barnes & Nobel (US)
---
The Heir of Mistmantle
isbn 978-0-7475-7515-3
Filled with action, suspense and adventure
Stories for Children
Extract:
'Look at the riding stars, look at your dreams,' said Sepia, stretching her paws to the fire. 'I remember now.'
'All I dream of is having my own boat,' said Fingal. 'Get looking and get dreaming, everyone!'
They smiled, but their hearts were with the stars. Urchin and Needle thought of the new life before them as full members of the Circle with all its respon­sibilities and demands. Urchin thought, too, of the parents he had never known. He folded his paw over the squirrel-hair bracelet that was all he had of them.
Juniper gazed up steadily. There were two hopes and dreams for him. One was to serve the Heart and the island as the best priest he could be. The other was to find out who he really was.
Like Urchin, he was a foundling. Damson the Squirrel had found him as a baby and brought him up in secrecy in the days when any animal with a twisted paw, like his, was put to death. He was sure that Damson knew more about him and who he really was than she had ever told him. Brother Fir had called him 'Juniper of the Journeyings', and he knew it wasn't just because of his journey to the Isle of Whitewings. On Whitewings, Urchin had discov­ered who his parents were. That was what Juniper wanted for himself, too.
A star twirled down, so fast and bright that the flash of it made Juniper turn and squeeze his eyes shut. Suddenly he shuddered, swallowed hard, and pressed a paw against his stomach to keep himself from feeling sick.
'Are you all right?' asked Urchin.
'I don't know,' he whispered.
Behind his closed eyes, with the imprint of the star still before him, he had seen with intense clarity. For a split second he had seen claws, very white, out­stretched claws. There had been something blue, something that he felt he should have recognised -then the silver flash of a knife.
'I'm fine,' he said to Urchin. There was no claw any more, no flash of blue, no knife. But he had seen them.
Nobody noticed the gull that flew over the island that night, with a fish in its beak. It meant to land and gobble it down, but the fish was diseased and foul-tasting so the gull dropped it and flew on, beyond the mists, without anyone seeing it at all.
Buy The Heir of Mistmantle from Amazon (UK)
Buy The Heir of Mistmantle from Barnes & Nobel (US)
---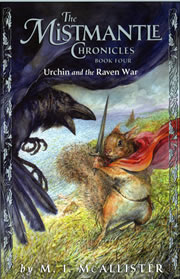 Urchin and the Raven War
isbn 9781423101833
After his last adventure, Urchin of the Riding Stars has taken his place as a trusted member of the Circle in King Crispin's court. Life on the island is back to normal, with little Princess Catkin growing up and testing everyone's patience in the process.
But daily life is disrupted when Lord Arcneck and other inhabitants of Swan Isle come to Mistmantle asking for help. Their home has been taken over by bloodthirsty ravens that are attacking them and ravaging everything in sight.
The brave animals of Mistmantle rush to the aid of their friends, but in doing so, incur the wrath of the invaders. The vengeful ravens are powerful and won't stop until they hunt down and destroy every creature on the island. Only by using all of their courage and cunning will Urchin and his friends stand a chance of preserving life as they know it on their beloved home.
Fans of this delightful series will not be disappointed with the latest installment of the adventures in this enchanting universe. Urchin continues to grow as a hero, and the creatures who surround him continue to be well-rounded and wonderfully real. McAllister includes just enough animal behavior along with the anthropomorphic to keep the mix from turning too human but still lets the characters change and grow realistically, a delicate balance nicely pulled off. As in the previous books, the plot is complex without being confusing, twisting without blindsiding, and engaging throughout.
Teresa Copeland, VOYA December 2008.
Buy Urchin and the Raven War from Amazon (UK)
Buy Urchin and the Raven War from Barnes & Nobel (US)
---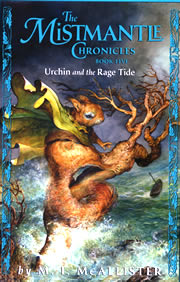 Urchin and the Rage Tide
isbn 978 142310185 7
'Under the wise guidance of King Crispin, the animals of Mistmantle have enjoyed a long period of peace and prosperity since the violent Raven War.
The tranquility is disrupted when a series of tidal waves threatens to destroy the island. The inhabitants must quickly movedto higher ground to avoid the devastation. But Mossberry, an influential squirrel with delusions of grandeur, sees the impending disaster as an opportunity to rise to power... and his reckless decisions will put many citizens in harm's way.
In a race against time, Urchin of the Riding Stars, his page, Corr, and the Circle of King Crispin's court must stop Mossberry and usher the animals of Mistmantle to safety. And when a beloved citizen is swept away in the rage tide, the ultimate sacrifice must be made.
Buy Urchin and the Rage Tide from Amazon (UK)
Buy Urchin and the Rage Tide from Barnes & Nobel (US)
---
There's more on Mismantle at www.mistmantle.co.uk
---